Navigating Global Dairy Markets: Unraveling Supply Shifts, Economic Dynamics, and Inflation Headwinds in 2023
The global dairy market is experiencing a shift in outlook due to slowing supply growth from major exporting regions. Weaker commodity prices have influenced production responses, impacting the dairy market positively. However, the extent of this rebound hinges on demand recovery in key import markets.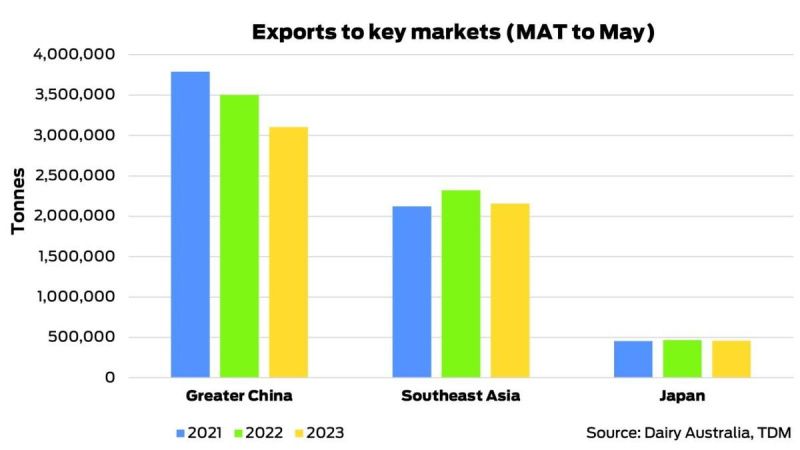 Global demand for dairy is constrained by inflation and low consumer confidence, particularly in price-sensitive markets like South-East Asia. Australian dairy exports to the region have declined by 22% between 2022-23 and 2021-22. Despite expectations of a faster post-pandemic economic recovery, persistent inflation in South-East Asia continues to limit domestic spending.

In Japan, core inflation remains above the central bank's long-term target, driven by steady rises in food prices. While the current inflation rate has slowed, it remains at the highest level in a decade. The situation in China differs, with recovering demand offset by strong domestic milk production. Although China's domestic milk market is generally oversupplied, recent positive signs include decreasing local production and a fall in whole milk powder stockpiles.
Despite these positive indicators, challenges persist, as illustrated by a decline in dairy export volumes to China over the 2022-23 financial year. Inflation and oversupply in China are expected to remain significant challenges for key markets throughout the year. Looking ahead, the weakening milk production forecasts from major exporters could potentially lead to a market rebalancing, depending on the economic outlook and geopolitical disruptions.
Analysts believe that the bottom of the current price cycle has passed, and a potential rebalancing of the market, supported by decreasing milk production forecasts, may prevent further price declines.