Belarus: President Lukashenko slams corruption schemes in dairy industry
During the government conference hosted by Belarus President Aleksandr Lukashenko in the Palace of Independence on 14 November the head of state mentioned that corruption schemes in the dairy industry had been uncovered, BelTA has learned.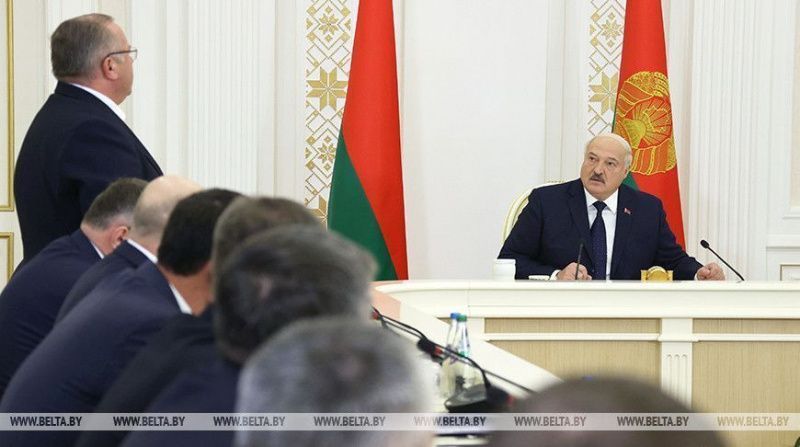 Aleksandr Lukashenko said: "Since petitioners have started bringing some grievances to me, I would like to publicly identify the problem. Some of those present (the prime minister, the deputy prime minister, the head of the State Control Committee) may answer some questions after hearing me out. But since the case is still being investigated, I cannot disclose many facts. But those, who are trying to reach me, will hear it and will understand what I mean."
The head of state used the Mogilev-based enterprise Babushkina Krynka as an example to describe the corruption scheme that had been cracked open by law enforcement agencies. A new head of the company was appointed several years ago. He hired his own "team" made up of friends and relatives and launched "a new sales policy".
"Mr. Skitov was appointed the company's director in September 2019. He hired his own team of managers. Many like to talk about team spirit and so on. I have always cautioned you against that: no teams, you need a managerial structure and the rest. He launched a new sales policy and took complete control of the financial flows. He appointed a driver into an executive position. And relatives: a cousin once removed, a first cousin, and a son naturally," the president said.
"As a result of investigative measures eight commercial groups have been uncovered, which have established control over the export of products of a number of Belarusian milk-processing enterprises to Russia on the terms that benefit these groups. Some may start wailing and shouting about biased investigations into medics, into someone else's actions and now into dairy industry. I am saying it specifically in the presence of oblast governors because it is typical of you. I've only looked at Babushkina Krynka. But all of you will be made answerable. And harshly," the head of state warned.
"A distinguishing trait in operations of owners of Belarusian companies was the existence of commercial entities operating in Russia and controlled by these owners. As part of the scheme merchandise was sold [to these commercial entities] at minimal markups. Then the products were sold to end consumers at higher prices while the tax base was reduced. Reports indicate that the scheme would not have been possible without the involvement of officials and executives of enterprises and government agencies. Roman Aleksandrovich [Golovchenko, Prime Minister of Belarus], you will be made answerable as well if it turns out that your people were involved. There are reasons to believe that members of the government may be involved. I am not going to specify names while the investigation is in progress," Aleksandr Lukashenko said.
In exchange for bribes individual commercial entities received dairy products (butter, cheese, and other dairy products) on a priority basis and could buy them below recommended prices.
The head of state stressed that this criminal case had become possible because the government has not worked out a product sale system. "Many suggest selling merchandise via the commodity exchange and so on. It is up to you. But once these criminals were caught, the enterprises started offering totally different prices. And all of it began in Vitebsk Oblast, Mr. Subbotin [Chairman of the Vitebsk Oblast Executive Committee]. It may have started before your time. But I am warning the governors: god forbid if faults happened during your term of office. There will be hell to pay however reliable and loyal you may be. It is not a matter of Lukashenko. It is a matter of state importance," the president stated.
He drew attention of Chairman of the State Control Committee Vasily Gerasimov to the uncovered facts: "Vasily Nikolayevich [Gerasimov], I want to once again warn you in public. It is good that you see problems in agriculture. Those people will be made answerable. But these are your faults. Take a close look at it."
"I've instructed the chairman of the [State Security] Committee to inventory all the properties. And there are plenty of those. Everything must be seized. We see the damage. Multiply it by three or possibly by five since we haven't seen everything. All the properties must be seized by the state. Extreme impudence," Aleksandr Lukashenko was indignant.
Chairman of the State Security Committee Ivan Tertel noted that investigative actions have resulted in detention of 26 people and arrests of 15 people.
The head of state also instructed the president's authorized representatives to take care of the situation in the regions they oversee. Close attention should be paid to the capital city. "You haven't even started yet in Minsk. Get down to it. We will sort out everyone," Aleksandr Lukashenko summed it up.