Fortress Technology Enhances Cheese Processing with Innovative Twin-Lane Inspection System
Fortress Technology has introduced a streamlined twin-lane inspection system, combining metal detection and checkweighing to enhance cheese processing for a prominent cheese processor. The cheese processor, known for delivering premium products to over 60 countries, processes approximately 11 billion liters of dairy liquids annually. The innovative system optimizes resources, reduces dairy waste, and upholds the company's global brand integrity.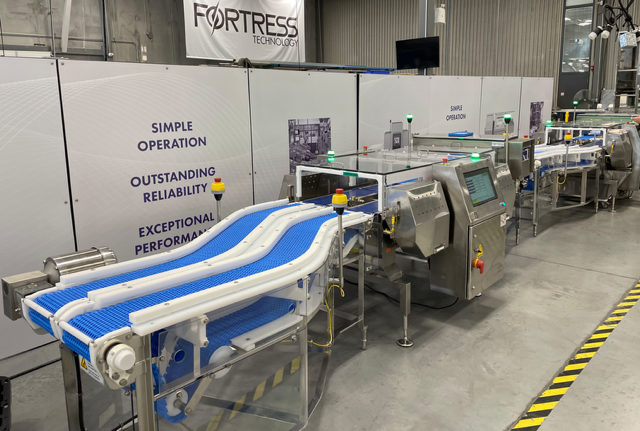 The twin-lane Raptor 'Combination' systems are strategically positioned between the upstream packaging area and the secondary case loading section in two of the company's cheese processing plants. These systems ensure that products are free of contaminants and comply with international Weights and Measures regulations.
Designed to inspect tightly spaced cheese products, the twin-lane configuration features a curving conveyor that facilitates optimal spacing between lanes. The system utilizes a single metal detector divided into two compact apertures, along with two independent weight verification checkweighers. Each lane, metal detector aperture, and checkweigher operates independently, minimizing interruptions during product switchovers or maintenance.
The metal detector and checkweigher conveyor decks and belts are constructed to the highest food-grade standards, allowing for easy removal and rapid deep sanitation. The system achieves a significant reduction in good product wastage by isolating metal contaminants and weight rejects with individual air blast reject mechanisms for each lane.
The integrated digital checkweighing system complies with global Weights and Measures Regulations, providing accurate weight verification for cheese packs. The sophisticated software captures and reports data in milliseconds, enabling instant reject decisions and combining batch statistical data from both lanes.
By capturing live Overall Equipment Efficiency (OEE) data, the metal detector and checkweigher support traceability, quality control decision-making, and production improvements. The combi system features data logging and can be connected to Fortress Technology's Contact 4.0 software, providing comprehensive reporting on production parameters, volume, weight, inspection rates, rejects, and downtime.
This innovative inspection system aligns with the cheese processor's commitment to maintaining product authenticity, ensuring food safety, and minimizing environmental impact, contributing to its global brand integrity.