Dreamfarm Secures €5M Funding to Advance Production of Innovative Almond-Based Vegan Cheeses
Italian vegan cheese startup Dreamfarm has successfully closed a funding round, raising €5 million to establish a production hub for its groundbreaking patented process in creating a healthier plant-based cheese alternative. The company, founded in 2021 by Maddalena Zanoni and Mattia Sandei, specializes in fermented almond mozzarella and spreadable cheese, both of which boast a Nutri-Score A rating.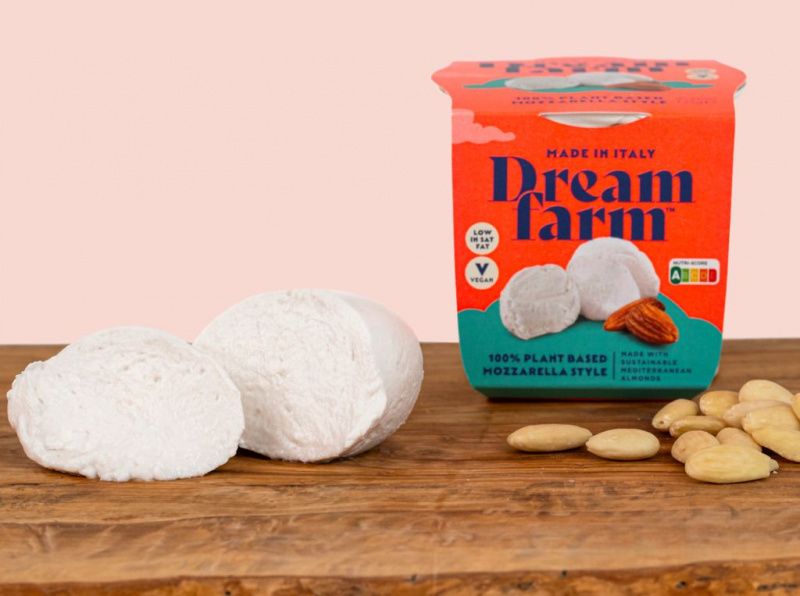 Breaking from tradition in Parma, known for its AOP parmigiano reggiano, Dreamfarm stands out as the first Italian company to achieve a "government-certified liquid status" and an A rating on the Nutri-Score scale for its vegan cheeses. The recent funding infusion comes from investors Giampaolo Cagnin, founder of Italiana Ingredienti, Campus, and Hi-Food, and Francesco Mutti, the owner and CEO of the Mutti Group, renowned for its Pomodoro brand.
Dreamfarm's cheeses, made through the fermentation of almonds, offer a unique nutritional profile with an emphasis on health. Despite almonds being associated with a higher water footprint, the company emphasizes the sustainability of its Italian and Spanish almonds, primarily sourced from rain-fed agriculture. The cheeses contain a modest percentage of almonds, vegetable fiber, salt, agar-agar, natural flavorings, and lactic acid bacteria, resulting in low salt, sugar, and saturated fat content, while providing ample protein and fiber.
The startup's mozzarella, containing 25% almonds, stands out for its health credentials, offering a Nutri-Score A rating. Dreamfarm uses its own starters developed at Belgium's Ghent University for the patented fermentation process. The fresh funds will aid in establishing a production hub in Sala Baganza, Parma, equipped with specialized machinery to optimize manufacturing.
Dreamfarm's CEO, Giovanni Menozzi, expressed excitement about creating the venture in Parma and highlighted the company's commitment to challenging the status quo, particularly with its iconic mozzarella. While acknowledging some limitations in terms of stretchability and meltability compared to traditional mozzarella, Menozzi affirmed their dedication to refining the product, especially for pizza applications.
Having initially launched in the Italian market, Dreamfarm plans to expand into the European Union, starting with Belgium due to its high penetration of plant-based products. The startup aims to capitalize on the significant growth in the vegan cheese market, as evidenced by a 28% sales increase in Belgium from 2020-2022.
The funding will be instrumental in expanding production and distribution, as well as diversifying the product portfolio. Menozzi confirmed that Dreamfarm is actively working on developing more plant-based cheese alternatives to create a comprehensive and appealing range for consumers worldwide.